St Ethelburga's Centre for Reconciliation & Peace builds community resilience for times of ecological and social emergency. They aim to prepare leaders and activists who can create opportunities for regenerative change in times of crisis through collaborative, practical action—establishing rooted, cohesive communities.
The Spiritual Ecology Programme integrates teachings of ecology with a deeper awareness of the world as alive, animate, and sacred. This deep understanding of the interdependent nature of our world reveals the interconnected reality of its wounding too. Harm to the planet becomes harm to the people, and vice versa. This need for holistic climate justice is rooted in spiritual ecology, which proposes that at this time of ecological unraveling, embodying spiritual values has the potential to provide the foundation from which to respond and rebuild.
The most recent project from the Spiritual Ecology Programme is the podcast series Listening to each other: Listening to Earth, a community-building response exploring the integration of spirituality with grounded action through the lives and leadership of people of color. Past projects include the Spiritual Ecology Youth Fellowship programme, supporting emerging young leaders, and Seasons of the Sacred, an event series to celebrate the spirit of community, combining rituals of food, conversation, art and activism.
---
Featured Media
Ancestral Gifts That Soften the Edges
In this first episode of the podcast series Listening to each other: Listening to Earth, brontë velez (co-founder and creative director of Lead to Life) discusses spiritual ecology, black liberation, and prophetic attention.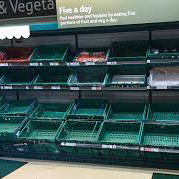 Ready or Not: Deja Vu, Deep Adaptation and the Pandemic
Justine Huxley reflects on deep adaptation, the pandemic, and our model of values-based resilience.
---
Five questions with Justine Huxley, CEO
Where do ecology, culture, and spirituality connect in your work?
JH: St Ethelburga's is a "maker of peace-makers." Our core aim is to build community resilience for times of ecological and social emergency. We aspire to courageously face the possibility of climate collapse and prepare for it. At the same time, we hold an unwavering vision for deeper transformation, for a world rooted in interdependence and compassion. We offer spaces where people can gather and be nourished by that shared vision, and we work with others to plant the seeds of that transformation in people's hearts, in our communities, and in the earth.
Our work is organised around four key principles, which are reflected in the stories of our centre, which has a very unusual history.
Our first story is very relevant to the current time of the global pandemic. St. Ethelburga was a seventh-century religious leader who was young in her leadership when the plague arrived in London, and people were dying in huge numbers. She had a vision that called her to serve as a healer and chaplain to the sick. Her story inspires us to put values into action, no matter how dark or challenging the times.
Our second story is to do with how our Centre came about. In 1993, an IRA bomb exploded in the City, almost completely destroying a tiny medieval church on Bishopsgate. Rebuilt as a centre for reconciliation and peace, this story reflects the opportunity in crisis—that conflict and crisis are the signs of a system attempting to evolve and change, and that if one seeks the opportunity, new life can emerge. This principle guides us in our work with conflict and preparing communities for climate breakdown.
Our third story is about our Bedouin Tent—a unique and beautiful space, originally built as a response to religious extremism. Its circular design offers a container for non-hierarchical dialogue, where all perspectives are welcomed equally. This Eastern-inpsired structure, alongside the Western architecture of the church, reflects the need to build community across differences. This theme is fundamental to all our work.
Our last story, for me, is the most essential. St. Ethelburga's has been consecrated ground for over 800 years. Now dwarfed by the skyscrapers of the City, this tiny patch of land has remained true to its ancient purpose. This speaks of the need to protect what is sacred. Not just spaces for prayer and silence, but also the sacred space of nature, which is so greatly under threat at this time. We believe we cannot have peace on Earth unless we first have peace with Earth. Silence, spirituality, and love for our Earth are woven through everything we do.
What's one thing that you want people to know about your work?
JH: These values, for us, provide a map for navigating these times of disintegration and opportunity, in which the old systems are falling but the new have not yet been born. We see a real need for such maps. Probably many of the people reading this website are awake to a new story of interbeing, but there are many people who are increasingly fractured. They live in a disjointed reality, showing up for their regular job and carrying on as usual—but watching disaster unfold globally and feeling powerless. A set of values like these can be an inner container, enabling us to internalise the situation we are in, to face it with courage and integrity. Then, rather than living in an illusion, we can let go of what no longer makes sense and begin to repurpose ourselves for what is coming.
There is an urgency about this work of preparation. We are all needed—to stand in solidarity with people of all races, faiths, and social classes; to bear witness to the greater transition that is happening behind the unfolding collapse; and most importantly, to carry a light within us, a vision, numinous and mythic, powerful enough to transform our relationship with life. We need to hold that vision like a baton, passing it from generation to generation, until a new, more beautiful world can arise from the ashes of our broken civilisation.
What do you see happening in your field—or beyond, in the world—that you're really excited about?
JH: I'm energised by the sense of truth-telling that has swept the planet: those brave and articulate enough to name the magnitude of the crisis we are in—many of them young people—are no longer willing to be silenced by the forces of denial that would have us stay calm and carry on while we hurtle towards mass extinction. And that truth-telling includes the voices speaking out about racial, climate, and social injustice. We cannot live the story of interbeing in any meaningful way until those wounds of history are made fully visible and redressed.
I'm energised too seeing the compassion unleashed by the pandemic. It's heartening to watch how, when tangible need is on our doorstep—like our patron saint in the seventh century—so many respond instinctively by reaching out, by caring, and by rediscovering what really matters. These things give me hope.
What does service mean to you?
JH: When I was in my twenties, I worked briefly as a counsellor for a social care agency in a deprived area. Until I was faced with the profound and debilitating needs that many of these people lived with, nothing in my life had really called me to show up with my full resources. They taught me how to be present with all of myself, for the sake of others. By leaving my own concerns at the door on the way in, I could show up empty of self-preoccupation, and in that space, healing could happen. And there was so much joy in it. So much freedom.
Since that time, I've been blessed with incredible role models who have taught me the meaning of real service. They show me that when we trust enough to sacrifice our own self-interest and give ourselves more deeply to life, that we receive so much; no other way of life could be as rewarding.
Service also gives us true resilience. If we contemplate a future of ecological collapse, with protecting ourselves in mind, it can be terrifying. If we contemplate that future through the lens of what we can give, it's an entirely different experience. We can use the depth of need around us to summon parts of ourselves we might otherwise never live. Then there can be joy, opportunity, togetherness, and alchemy.
What did you want to be when you grew up?
JH: What a fun question—I wanted to be a dancer! A part of me still does! Having flirted with dance in many forms throughout my life, I still aspire to bring the same quality of flexibility, improvisation, and passion to how I move through my working day. Plus maybe to just fling myself happily around my bedroom with a few crazy people on Zoom!
---
---
This project is supported through the Kalliopeia Foundation Fund at RSF Social Finance.