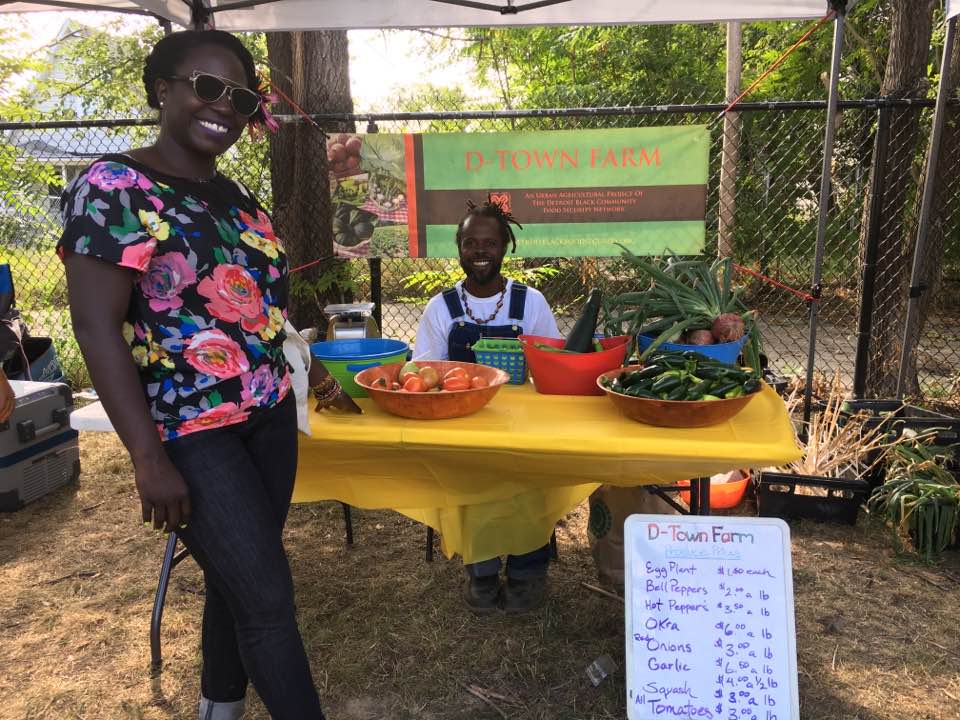 The Detroit Black Community Food Security Network (DBCFSN) is a grassroots, community-based, nonprofit, membership organization that works to build self-reliance, food security, and justice in Detroit's Black community by influencing public policy, engaging in urban agriculture, promoting healthy eating, encouraging cooperative buying, and directing youth toward careers in food-related fields.
DBCFSN's vision is to advance movement toward food sovereignty while advocating for justice in the food system that ensures access to healthy foods with dignity and respect for all of Detroit's residents. Since its founding, DBCFSN has contributed significantly to changing the local and national discourse on creating racial justice and equity in the food system.
D-Town® Farm is a 7-acre organic farm in Detroit, offering opportunities for youth and community members to engage in urban agriculture and cultural revitalization. The Farm provides fresh, affordable, natural, organically grown, culturally-appropriate food, increasing the physical, spiritual, and emotional health of its communities.
---
---
from Malik Yakini, Co-Founder
A Time for Wisdom and Discernment
Like millions of others throughout the US, for the past two weeks, I have been working, primarily, from home. Staying at home has caused me to slow down, move in a less contrived rhythm, and has created space to reflect on many issues including my own health and mortality, how to move wisely in a time of crisis, and the undeniable interconnectedness of communities, nations, and humanity.
As I more fully embrace being an elder, I realize that either/or thinking rarely serves us well. Understanding what is "true" requires us to dance in the grey spaces between seemingly opposing ideas. In the case of the current COVID-19 pandemic, we are forced to weigh many competing considerations, including the degree to which we lean on our spirituality and/or science to survive.
These competing considerations require us to reach deeply inside for wisdom and discernment. We are required to move beyond straight-line thinking and recognize that truth can manifest in many different ways. Yes! Practice prayer, meditation, ritual, deep breathing, and practice physical distancing, hand washing, and use of disinfectants.
This collective downtime that we are experiencing gives us the opportunity to witness and reflect on both the positive attributes and troubling tendencies within humanity. It challenges us to think about what it means to become more fully human; to think about how we protect the most downtrodden and vulnerable of the human family.
The current pandemic has made it clear that racial and economic inequities are exacerbated in times of crisis. The poor and marginalized are more vulnerable as communities scramble for valuable resources and public services. Interestingly, in response to the pandemic, the federal and state governments are putting in place a social and economic safety net. Many communities are offering free public transportation, foreclosures have halted, water shut offs have ceased, student loan payments have been deferred, police are not focused on petty crimes. The reality is that those policies should be in place at all times.
Times like this require us to take inventory of what is really important in our lives. Most of us are forced to focus our attention on the basics, like having adequate food, water, and shelter. We are spending more time with immediate family. We are cooking more. We are more aware of reducing waste. We are forced by circumstances to live more simply, a practice that can serve us well long after the current crisis is over.
By all accounts, physical distancing seems to be an important part of slowing the spread of COVID-19, but it is important that we maintain and increase social solidarity. This pandemic brings with it tremendous potential for the transformation of our collective consciousness. Life will not go back to what it was before. In the long run this crisis will convince many of the need for cooperatives and community self-reliance initiatives, universal health care for all, and an end to the great racial and economic disparities that have plagued this nation since its beginning.
Stay safe! Stand for justice!
---