The Native-led Colorado Plateau Foundation connects national funders and Native communities to protect lands, waters, and cultures for generations to come. The Foundation invests in Native-led organizations working in four priority areas on the Plateau: protection of water, protection of sacred places and threatened landscapes, preservation of Native languages, and sustainable community-based agriculture. "We live where we serve" is the heart of the Foundation's strategy to achieve efficient and effective grant making.
---
Featured Media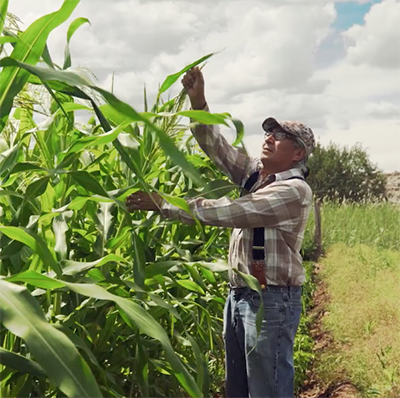 Counter Mapping
Jim Enote was featured in Emergence Magazine in the film Counter Mapping when he was director of the A:shiwi A:wan Museum and Heritage Center in Zuni, New Mexico. He now leads the Colorado Plateau Foundation.
---
---
Three questions with Jim Enote, Chief Executive Officer
Where do ecology, culture, and spirituality connect in your work?
JE: Ecology is a discipline and social idea that I use to describe our work to conservation scientists and environmentalists. It is a perspective coming from a knowledge and value system that is not mine, but one I recognize and appreciate. Culture is the way my people interact among ourselves and serves as the core for our social behavior and the way knowledges are maintained and transmitted. Spirituality is what I value in the context of my culture and is based in my awareness to maintain a cosmological process.
My spirituality comes from my cultural frame of reference. Ecology is a bridge and link between my culture and non-Native culture. I have learned to mediate various knowledges and values through careful words and respect for other ideas and values. It is not easy and not always comfortable, but doing so with peacefulness and strategy is necessary to achieve my goals.
What matters most to you right now?
JE: Helping Native-led organizations to become stable and stronger from within so they can flourish and continue their good work making the world a better place.
What is one word in your Native language you really love, and what does it mean?
JE: Tsaydidii: early morning sunlight glistening on corn leaves covered with dew. This happens if it has been raining and the humidity is high enough to create dew.