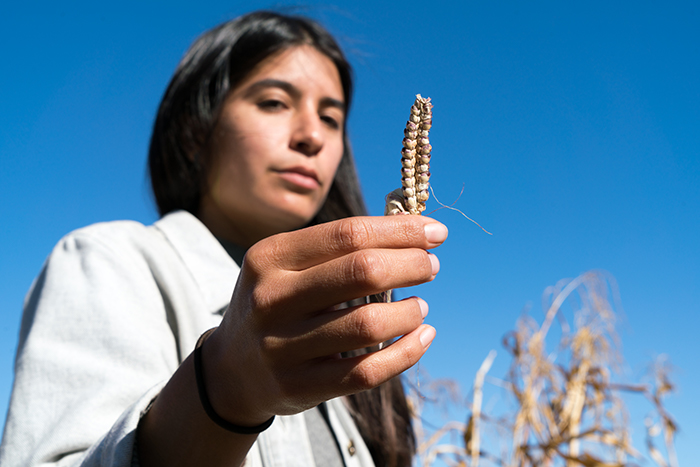 The mission of The Cultural Conservancy (TCC) is to protect and restore Indigenous cultures, empowering them in the direct application of traditional knowledge and practices on their ancestral lands. Founded in 1985, TCC works with California tribes, Native Americans around the US and Canada, Pacific Islanders, and Indigenous communities in Central and South America on a wide variety of community-based projects, from sacred site protection to the revitalization of endangered languages, arts, and song traditions. Central to TCC's work is acknowledgement of the sacred relationship of Native peoples to their land and waters, and the importance of their physical, mental, and spiritual health.
TCC recently launched The Native Seed Pod, a podcast that explores and celebrates Native foodways, ancestral seeds, and the traditional ecological knowledge needed to renew the health of the Earth.
---
Featured Media
From Soil to Sky: Mending the Circle of Our Native Food Systems
Melissa Nelson and Maya Harjo share how The Cultural Conservancy supports Native communities in cultivating the medicines of the land and honoring their cultural resilience.
Featured Episodes
Mohawk Seed Keeper Rowen White takes us through her unique holistic, Indigenous permaculture approach to seed stewardship, which honors the many layers of seed culture that are rooted in an Indigenous ecology of interconnected relations.
Potawatomi botanist Robin Wall Kimmerer shares her wisdom on topics such as reciprocity, the sovereignty of being, the Rights of Nature, bio-cultural restoration, and collective remembering.
Native American food sovereignty leaders talk about the importance of Indigenous foods and foodways, from intertidal coastal gathering to moose hunting to wild rice gathering.